Home &raquo Placer Mining in BC &raquo Cabins
Cabins on Placer Claims
I am not an expert on mining law - I am just trying to help. Use the information in this website at your own risk. See the Notice at the bottom of this page.
Some placer claims have cabins on them. They are a gray area in the law in a few different ways.

It is important to remember that a placer claim or lease can only be used for the purpose of placer exploration and mining. This is not to say that you can't do a little fishing after working on your claim that day, but a placer claim cannot be used as a recreation site. If you are out on your placer claim, you should be doing something related to placer mining.

Cabins (and any other structures) on placer claims are, legally, part of the disturbance of a claim that must be reclaimed.

If you buy a placer claim that has a cabin on it that was being used by the seller, you will generally be able to use the cabin. It is a sort of hazy situation - you are not acquiring ownership of the land. The cabin becomes your responsibility but your ownership of it is questionable - the person that built the cabin could come back and say that he is reclaiming this disturbance and start taking the cabin apart. Other than this situation, you would have the only "claim" to the use of the cabin.

If you are considering buying a placer claim that "comes with" a cabin, it would be wise to check if anyone is using it. No one else would have a right to use the cabin, but if it contains some large gentlemen, you would have to convince them of this fact or have the police do so.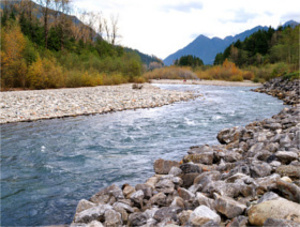 A cabin should never be built on a placer claim or placer lease unless you are going to be out there, placer mining (including exploration and development) for the bulk of the season, most years for a good number of years, and you have written permission from an inspector in the mining district.
If the Chief Inspector decides that you have illegally been using a placer claim or placer lease as a recreation site, you could lose your Free Miner Certificate, all your claims and/or leases and be responsible for all reclamation, including taking down the cabin.
If you do build a cabin on your placer claim, you own it. But, when mining is "completed", you are supposed to take it down and reclaim the site. If the claim is forfeited, you may be liable for the cost of this reclamation if you leave the cabin standing. I am not a lawyer, but it is my understanding that leaving a cabin on a forfeited claim will probably not be a problem as long as someone is likely to acquire the claim. However, if a claim has enough potential for you to be able to legally build a cabin, you will probably want to try to sell the claim rather than let it forfeit.
Ownership of a placer claim gives you the right to explore for and mine placer minerals; it does not give you ownership of the land. A placer lease does give you surface rights, but still not ownership of the land. On a placer lease with a cabin, you would sort of effectively own the cabin, but it would still have to be removed when "end of mine" reclamation is done.
In practice, mining on a placer lease or placer claim is never really done, even if a particular mine is shut down.
---
Notices
Copyright 2011, 2012, 2013, 2014, 2015, 2016, 2017 by Brian Marshall &nbsp &nbsp brian@bcplacer.com

All images on this website are copyrighted by their owners and they may not be downloaded for other than personal use - republication, retransmission, reproduction or other use is prohibited.

INFORMATION PROVIDED BY THIS WEBSITE IS PROVIDED "AS IS", WITHOUT WARRANTY OF ANY KIND, EXPRESS OR IMPLIED, INCLUDING BUT NOT LIMITED TO THE WARRANTIES OF ACCURACY, MERCHANTABILITY, FITNESS FOR A PARTICULAR PURPOSE AND NON-INFRINGEMENT. USE AT YOUR OWN RISK.
---