Home &raquo About Placer Mining &raquo Fine Gold
Fine Gold - Fine Opportunity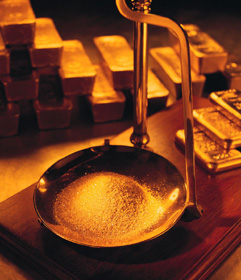 Nuggets are great, but often, the majority of the gold that can be recovered in an area is fine gold. Fine gold has been ignored in many places, particularly during gold rushes when coarse gold was being found.
Rocks and Clay
It is important to wash all gravel and larger rocks so that fine gold isn't discarded before it gets into the sluice box. Pieces of solid clay may be able to be washed and discarded. Any clay that goes into the sluice must be completely broken up and suspended in the water so no balls of clay steal gold as they move down the sluice.
Regular Sluice Boxes for Fine Gold
The old standard sluice box - with riffles, expanded-metal-screen and matting - can do a pretty good job of recovering fine gold.

No material over a certain size goes into the sluice box. Larger pieces need more water to carry them and they jar things when they bounce. Whether you use a fridge-shelf or a trommel, everything over, maybe, half an inch, is washed and rejected.
The matting is important and is a small expense. It needs to make a layer of the calmest water in the sluice box. Whatever came with your sluice box may be okay. Miner's Moss is good - there are other products. You can also improvise. Most carpet doesn't work well, fills with black sand quickly and is difficult to clean out.
Engineered Bottom Sluice Boxes
There are new kinds of sluice boxes that don't use mesh or matting, and the shape of the bottom of the the sluice makes the riffles.

They can be good at capturing fine gold, but they don't catch all of it. Adding another sluice box will catch more. Up to a point, the longer the sluice box, the more fine gold you will catch.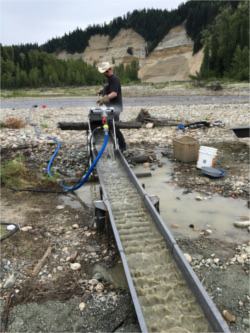 In the image to the right, a long sluice is being used to recover fine gold from an abandoned channel of the Fraser River.
A Sluice-Screen-Sluice Setup
A good approach to recovering fine gold is...
a Coarse-Gold Sluice Box for sand-size gold and larger
a Screen passes sand and smaller material
which flows through a Fine Gold Sluice Box
The Coarse Gold Sluice Box can be a fairly short, regular type of sluice box - you may already have something that can be used.

It is best if there is no physical/rigid connection between the Fine Gold Sluice Box and the rest of the wash plant.
The Fine Gold Sluice Box
Most of this sluice box has smooth sides and bottom. We want the water to flow as smoothly as possible, so gold can settle to the bottom of the flow. The new fashionable word for this is "slick plate".

This sluice box has sections - some may be separate pieces or they may all be parts of one piece.
The water/sand/gold flow into a straight, smooth section of sluice, where the water will start to flow more smoothly and gold will start to settle.
The sides of the sluice angle out - the sluice becomes fan-shaped, until it is two or more times as wide as the first section. The sides then angle back, so that the sluice is straight but wider. The water/sand/gold flow moves slower and the fine gold has a better chance to settle.
The fine gold sluice box - where you want to capture gold - has no riffles or screen or matting. The bottom is covered in something like black rubber floor mats with 1 to 2 mm ribs on the mats going across the sluice box.
You adjust the water flow and angle of the last section. You want to see light colored sand being washed away and black sand moving only part-way down the sluice.
---
Notices
Copyright 2011, 2012, 2013, 2014, 2015, 2016, 2017, 2018, 2019, 2020, 2021, 2022 by Brian Marshall &nbsp &nbsp brian@bcplacer.com

All images on this website are copyrighted by their owners and they may not be downloaded for other than personal use - republication, retransmission, reproduction or other use is prohibited.

INFORMATION PROVIDED BY THIS WEBSITE IS PROVIDED "AS IS", WITHOUT WARRANTY OF ANY KIND, EXPRESS OR IMPLIED, INCLUDING BUT NOT LIMITED TO THE WARRANTIES OF ACCURACY, MERCHANTABILITY, FITNESS FOR A PARTICULAR PURPOSE AND NON-INFRINGEMENT. USE AT YOUR OWN RISK.
---