Home &raquo Placer Mining in BC &raquo Getting a Claim
Getting Your Own Placer Claim
How to Buy a Claim or Acquire a New Claim
I am not an expert on mining law - I am just trying to help. Use the information in this website at your own risk. See the Notice at the bottom of this page.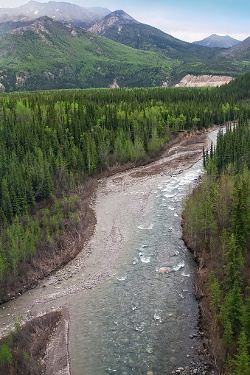 Okay.
You know something about placer mining in general, and placer mining in BC in particular.
You have a Free Miner Certificate (FMC) and you have learned about the basic rules.
You understand that to maintain (renew) a claim past its good-to date (if you acquire a new claim, after the first year), for each cell per year you will have to either:
work it (about $400 worth), or,
pay money to the government (about $800)
You know how to check out areas with the MTO mapping system.
Now You Want a Claim of Your Own
There are two ways to get a claim.
Acquire a new claim made up of one or more MTO grid cells that are open (not part of an existing claim or lease) for about $100 per cell. Cells vary in size depending on how far North they are. A typical cell is about 20 hectares - 200,000 square metres - a square of this area would be about 450 metres on a side.
Buy an existing claim from the owner, which may be a business that sells claims.
Either way, you have to be able to log on to the Mineral Titles Online (MTO) system.
MTO System Logon and Exit
To log on to the MTO system, you go to the MTO home page (clicking this link will open a new window), and click the yellow-orange Logon button and a Logon page will appear where you can enter your BCeID and password. (There are Forgot My BCeID and Forgot My Password buttons.)

Once you log on (and maybe continue past a first page), you will see a page with a number of tabs for different things to do.

Note that in the MTO system (and in the legislation), the word "Title" (and the older word, "Tenure") means claims and leases. A title number is a claim or lease number.

To exit (log off) from the MTO system, you scroll down and click on Exit this e-service on the left side of the page.
Acquiring a New Placer Claim
Acquiring a placer claim costs about $100 per cell. This is always cheaper than buying even a worthless existing claim.

If you want to acquire a cell that is partially covered by an old legacy claim (usually rectangles along the creek), you have to pay for the entire cell, even though you are only getting the rights to the area not covered by the old claim. However, if the old claim expires, your claim will automatically expand to include the entire cell.

See the MTO Help for Claim Registration (Acquisition).
Buying an Existing Placer Claim
The Seller's Client ID and the "Good To Date"
Before you buy a placer claim, you need to know the seller's Client ID and you should check the "Good To Date".

You want to know how long a claim is "good to" - how long before you must either do work on the claim or pay money to the government to renew the claim for another year. See Maintaining (Renewing) a Claim for more information.

To see the seller's Client ID and the "Good To Date" and other details about a claim...
Go to the MTO home page, and click the yellow-orange Title Search button
On the Title Search page, enter the claim number in the Title Number box and click Next at the bottom of the page. The claim details include the "Good To Date" and the owner's Client Id is beside the owner's name.
Buying an existing placer claim is a two step process:
Step 1 (Performed by the Seller)
In this first step, the seller enters the claim to be sold and the client-number of the buyer.

See the MTO Help on Title Transfer of Ownership (Bill of Sale Initiation)
Step 2 (Performed Within 30 Days by the Buyer)
In this second step, the buyer accepts the claim from the seller.

See the MTO Help on Title Transfer of Ownership (Bill of Sale Completion)

Actually, buying a claim is generally a three-step process. Before Step 1, above, you make the arrangements with the seller and pay for the claim.

There are alternatives to a simple sale. Many sellers will consider taking a fee or partial payment that will give you the option to buy the claim at a specified price after you have done some testing or other exploring. Another possibility is paying the sale price in installments over a number of years. If you do recover gold on a claim that you buy, many sellers will accept partial payments in the form of placer gold.
---
Notices
Copyright 2011, 2012, 2013, 2014, 2015, 2016, 2017, 2018, 2019, 2020, 2021, 2022 by Brian Marshall &nbsp &nbsp brian@bcplacer.com

All images on this website are copyrighted by their owners and they may not be downloaded for other than personal use - republication, retransmission, reproduction or other use is prohibited.

INFORMATION PROVIDED BY THIS WEBSITE IS PROVIDED "AS IS", WITHOUT WARRANTY OF ANY KIND, EXPRESS OR IMPLIED, INCLUDING BUT NOT LIMITED TO THE WARRANTIES OF ACCURACY, MERCHANTABILITY, FITNESS FOR A PARTICULAR PURPOSE AND NON-INFRINGEMENT. USE AT YOUR OWN RISK.
---