Home &raquo MTO Maps, Info & Admin &raquo Contour Lines
Contour Lines on MTO Maps
Seeing the Shape of the Land
In the little map to the right, the light and heavy greenish-brown lines are contour lines - all along one of them is the same distance above sea-level. They are one way to show the lay of the land on a flat map.

If you haven't studied contour lines before, they can be confusing, but once you get the hang of it, you will find it easy to see the valleys, ridges, slope of the land, and so on.
On the MTO Maps
On MTO maps, contour lines, in a two layers called "Contours..." are not turned on automatically. You can turn them on - they are in the bottom "Base Maps" layers group.

Contour lines won't show up until you are zoomed in enough. There are two contour layers, one for fairly broad-scale maps and one for more detailed maps.
Reading Contour Lines
The light lines in the little map are 20 metre contour lines - moving up from one to the next means climbing 20 metres.

The dark ones are 100 metre contour lines.

The closer the contour lines are together, the steeper the slope is. In this little map, the East (right) side of the river valley is steeper than the West side.

Where the orange road is parallel to the closest contour line, it means the road isn't going up or down much.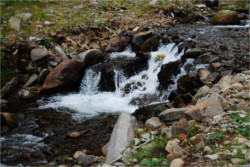 The road touches a contour line at one point. To get down to the river from there, you would have to climb down past five contour lines and then a bit more - that is 5 x 20 metres = 100 metres and a bit, say 105 metres or 345 feet - more than the height of a 30-story building!
Water flows straight down-hill if it can, so in most cases, the little creeks cross contour lines at close to a right angle.
Notice the creek that flows into the claim near its North-West (upper left) corner, and the contour lines that it crosses. All of these contour lines (except the bottom one) jog a little into the side of the valley, which means that the creek has cut its own little valley going down to the river.
---
Notices
Copyright 2011, 2012, 2013, 2014, 2015, 2016, 2017, 2018, 2019, 2020, 2021, 2022, 2023 by Brian Marshall &nbsp &nbsp bmarshal@agt.net

All images on this website are copyrighted by their owners and they may not be downloaded for other than personal use - republication, retransmission, reproduction or other use is prohibited.

Note: This page may contain images from FREEBigPictures.com.

INFORMATION PROVIDED BY THIS WEBSITE IS PROVIDED "AS IS", WITHOUT WARRANTY OF ANY KIND, EXPRESS OR IMPLIED, INCLUDING BUT NOT LIMITED TO THE WARRANTIES OF ACCURACY, MERCHANTABILITY, FITNESS FOR A PARTICULAR PURPOSE AND NON-INFRINGEMENT. USE AT YOUR OWN RISK.
---