Home &raquo MTO Maps, Info & Admin &raquo Coordinates
Coordinates from your GPS and MTO Maps
A set of Geographical Coordinates specifies a location - they refer to a place on Earth.
The Short Story...
Latitude and Longitude on you GPS may not exactly match those coordinates on an MTO map.

Use UTM coordinates whenever possible, including on work reports to push out the Good-To Date of your claim.
Coordinates on an MTO Map
On an MTO map - the government's Mineral Titles Online mapping system - down at the lower left corner, you can see the coordinates of the location where your mouse cursor is pointing.

If you click the little down-arrow-head, you can change the coordinates to Latitude/Longitude (in decimal degrees, degrees/minutes/seconds, etc.) or to UTM coordinates or other options.
MTO and GPS Latitude and Longitude
MTO and GPS latitude and longitude are usually a little different. UTM coordinates (see below) should be the same between MTO and your GPS.

Latitude and Longitude are the basic coordinates for locations. It would all be nice and simple if the Earth was perfectly round, but it isn't. This sorta makes a mess of the idea of latitude and longitude.

A "Datum" is a way map-maker's deal with this - an approximation of the shape of the Earth that makes the math easier. Different datums mean latitude and longitude are different.

MTO latitude and longitude use the "NAD83" datum (I think). The basic datum for your GPS is WGS84. They are very similar.

If you set the Datum on your GPS to NAD83, it may display MTO latitudes and longitudes.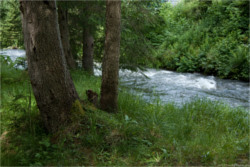 Some Different Coordinates
MTO latitude and longitude - they can be different than GPS Lat/Longs (depending on GPS settings). They shouldn't be mixed with GPS Lat/Longs.

UTM - coordinates used for many maps, including most of the kind of topographical maps that you have to pay for. They are commonly used to record, report and exchange location information. They are can be used for locations in Work Reports. Your GPS can probably display UTM coordinates.

UTM coordinates have a zone plus two numbers. An example zone is "10" or "10N" (Zone 10 North of the Equator). Most claims are all in one zone. The zone must be recorded or the coordinates are meaningless.

The two numbers are...
- an Easting - number of metres east of the zone's central meridian (plus 500,000 to prevent negative numbers).
- a Northing - number of metres north of the equator (the larger number).
So, the numbers are metres east-west and north-south - pretty close - some distortion because the Earth is round and because it is not perfectly round.

BC Albers - coordinates used by the old MTO mapping system (and some other mapping systems in BC). These coordinates are not good for reports, publishing or exchanging data except in special cases (ex. making Shapefiles to display points/lines/shapes on a BC Albers map).
So...
If you want to get the best match between GPS and MTO coordinates, or report any location accurately, use UTM coordinates.
---
Notices
Copyright 2011, 2012, 2013, 2014, 2015, 2016, 2017, 2018, 2019, 2020, 2021, 2022, 2023 by Brian Marshall &nbsp &nbsp bmarshal@agt.net

All images on this website are copyrighted by their owners and they may not be downloaded for other than personal use - republication, retransmission, reproduction or other use is prohibited.

Note: This page may contain images from FREEBigPictures.com.

INFORMATION PROVIDED BY THIS WEBSITE IS PROVIDED "AS IS", WITHOUT WARRANTY OF ANY KIND, EXPRESS OR IMPLIED, INCLUDING BUT NOT LIMITED TO THE WARRANTIES OF ACCURACY, MERCHANTABILITY, FITNESS FOR A PARTICULAR PURPOSE AND NON-INFRINGEMENT. USE AT YOUR OWN RISK.
---