Home &raquo Placer Mining in BC &raquo Applications
Applications, Giving Notice and Reporting
For Placer Miners in BC
I am not an expert on mining law - I am just trying to help. Use the information in this website at your own risk. See the Notice at the bottom of this page.
There are applications and reporting that a miner must do to maintain (ie. renew) a claim, get permits, and generally satisfy the government.

Some applications and reporting involve maps that can be made with the MTO mapping System.
Some Notices and Reporting Before Doing Work
a Notice of Work (NOW) to get a Mines Act Permit (also knows as a Reclamation Permit). It is a FrontCounterBC online application. The standard practice (which is a little different than what it says in Section 10 of the Mines Act) is that an operation must apply for a NOW if it involves:

machine digging or otherwise disturbing more than a small amount of ground or building a road

or requires a permit or licence for:

Small-scale hand operations that involve minimal disturbance that will be reclaimed do not require submitting a NOW (according to people that I have spoken to at various Regional Mining Offices).

For more information, see the Machine Digging page.
Landowner Notification Section 19 of the Mineral Tenure Act, available on the Legislation page, requires a person to notify landowners before entering private land for any mining activity. The Landowner Notification page has links to Legislation, Information, Procedures and Forms. It is reached from the Forms: Mineral & Placer Titles page.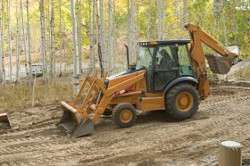 Some Notices and Reporting After Doing Work
A placer claim is maintained (renewed for another year) by either registering and then reporting work done on the claim, or paying cash instead. See the Maintaining Claims page for details.

If a Notice Of Work was submitted for work on a placer claim (See above), a Annual Summary For Placer Activities form is submitted to Mineral Titles.
---
Notices
Copyright 2011, 2012, 2013, 2014, 2015, 2016, 2017, 2018, 2019, 2020 by Brian Marshall &nbsp &nbsp brian@bcplacer.com

All images on this website are copyrighted by their owners and they may not be downloaded for other than personal use - republication, retransmission, reproduction or other use is prohibited.

INFORMATION PROVIDED BY THIS WEBSITE IS PROVIDED "AS IS", WITHOUT WARRANTY OF ANY KIND, EXPRESS OR IMPLIED, INCLUDING BUT NOT LIMITED TO THE WARRANTIES OF ACCURACY, MERCHANTABILITY, FITNESS FOR A PARTICULAR PURPOSE AND NON-INFRINGEMENT. USE AT YOUR OWN RISK.
---