Home &raquo About Placer Mining &raquo Making Money?
Making Money Placer Mining?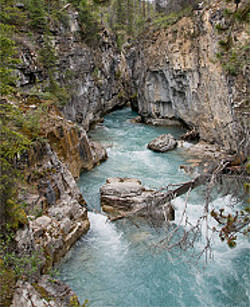 If you can afford to purchase a profitable, operating mine, you can make money.

For the rest of us, the truth is that only a small proportion of placer miners make money placer mining. But there are a aspects...

It may be a long shot but people have been looking for gold for thousands of years. There is always the chance of striking it rich.

Many placer miners do find gold that they value. It may not be enough to make their mining profitable but it makes the placer mining worthwhile. It is a great hobby that supports great dreams for many people.
Business Aspects
The most basic aspect is that many placer miners simply keep trying. If no one ever kept trying to get ahead in life just because the odds were against them, we would still be living in caves.

Unless an operating mine is purchased, placer mining is like starting a new business. Most new businesses fail. In any kind of situation, if there is an obvious way to make money, someone will already be doing it. If the situation is speculative, there are risks. Most placer miners are folks who are willing to accept some risk for the possibility of successful placer mining (however success is defined).
Prospecting Versus Existing Claims
Many placer miners are fundamentally prospectors. They may own one or more claims, but they are exploring - testing in different locations, looking for an opportunity to mine profitably. The goal may be to mine or to sell the claims. But finding a good location is the hard part.

Another approach is to try to find an existing placer claim where you make a deal with the owner. The deal might be a percentage of the gold recovered or an option to purchase the claim. But, again, finding a good location is the hard part.
Fine Gold
A lot of fine (as opposed to coarse) gold was missed, lost and/or ignored, particularly during the gold rushes. Nuggets are great but often most of the (remaining) gold in an area is fine.

A sluice box can capture fine gold. It is very important to ensure that all clay is broken up and suspended in the moving water. Balls of clay can roll down the sluice and pick up ("steal") the fine gold that has already been caught.
Modern Technology
Modern technology can be used on creeks that are past-producers (recognized by the fact that they are covered with claims even if few or none are being worked). Portable water pumps and backhoes/excavators make it a whole new game compared to the the 1800s or even the 1930s or 1950s. This is particularly true for benches well above creek level.
Placer Areas
The best Placer Areas can be the ones that were the best in the past. Alternatively, more obscure areas can be good because they haven't had the attention of the more famous areas. There are many areas and many theories.

Locations that can now be reached by modern forestry roads can be of particular interest to prospectors because they were so hard to reach before the roads were put in.
The "Casino" Aspect
There is an aspect to placer mining (usually during gold rushes) that also applies to casinos. In a casino, the house has an advantage, but they could generally make money even if they didn't. Some people come in and lose money. Some people come in and win money. Usually, however, winners keep playing until they, too, have lost money. Few people quit while they are ahead. The author finds this interesting but he is not sure how to apply it to placer mining over the long run.
---
Notices
Copyright 2011, 2012, 2013, 2014, 2015, 2016, 2017, 2018, 2019, 2020, 2021, 2022, 2023 by Brian Marshall &nbsp &nbsp bmarshal@agt.net

All images on this website are copyrighted by their owners and they may not be downloaded for other than personal use - republication, retransmission, reproduction or other use is prohibited.

Note: This page may contain images from FREEBigPictures.com.

INFORMATION PROVIDED BY THIS WEBSITE IS PROVIDED "AS IS", WITHOUT WARRANTY OF ANY KIND, EXPRESS OR IMPLIED, INCLUDING BUT NOT LIMITED TO THE WARRANTIES OF ACCURACY, MERCHANTABILITY, FITNESS FOR A PARTICULAR PURPOSE AND NON-INFRINGEMENT. USE AT YOUR OWN RISK.
---