Home &raquo MTO Maps, Info & Admin &raquo Get Information
Getting Information about MTO Map Items
Claims, Placer Areas and other Reserves, etc.
This page may still need some editing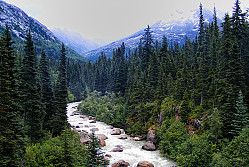 You can get identify and get information about items on the map...
Claims - Owners, Good-To Date, etc.
Reserves (areas with restrictions)
Survey Parcels - some are private land
First Nations Land
and other MTO map layers.

If a Reserve is found, a pop-up window opens with details about it. This can't happen if your browser is set to block pop-ups.

There doesn't seem to be much Private Land information beyond the survey parcel (early June 2016) - but I clicked on a house lot in Quesnel, clicked on the drop-down arrow-head on the survey parcel, clicked on the link "Tantalis Details", clicked on a few more links and I was looking at an image of the Crown Land Grant, granting the lot to Mike Somebody in 1948 in the name of King George VI, signed by a Deputy Minister of Lands.
Funny thing... on the third lot I looked at, where it is going...
George VI, by the Grace of God, of Great Britain, Ireland, and the British Dominions beyond the Seas, KING, Defender of the Faith, Emperor of India.
the "Emperor of India" part was "X"ed out... like using an old form and the King isn't Emperor of India in 1948... I guess. This was for Survey Parcel 16865961 (Pin Sid 16865961).
On the Green-button CWM map
You click on the white i inside a white circle. If you put the cursor over it, the description is "Identify Features". If you click it, a selection box will open, saying "(All Layers)". This means that it will list all the items under a point you click - the mapsheet grid, claims, survey parcels, etc. If you select a layer in the selection box... sometimes it makes a difference and you only get information about items in the selected layer. Some choices appear to act like "(All Layers)". This may change.

In the results, if you put the cursor on an item, it will be highlighted on the map. If you click on an item, the map will zoom to that item.

If you click on the drop-down arrow-head beside an item name, you get details about the item, sometimes with more links to more information.
On the Blue-button IMF2 map
You click on "I want to..." (blue box near the upper-left corner of the map) and then click on "Find data on the map". A little notice will say: "Drag on the map to draw a rectangle". You can click on the map or draw a rectangle. After you do, it will list all the map items that are in or touch the point/rectangle.

If you click on an item in the list, the map will zoom to that item and you will be shown details about the item. There is a "Compact View" (details on the left) and an "Expanded View" (details below the map). This is controlled by the little stack button, to the left of the "X" and to the right of the item name.

Getting Information on the IMF2 map - is a pretty fancy feature - so fancy that a description of exactly how you use it would be long and complicated and not much help. If you want to, give it a try. If you want something a little easier to understand, use the other map viewer - do your "Getting Information" on the Green-button CWM map.

One tip:
To get out of the details about one item and back to the list of items, click the x beside the item name at the top of the details.
In Any Case...
You can explore "Getting Information" if and when you like. If you don't need to look up Survey Parcels or First Nations land, you don't need to use it at all.

You can look up a claim and make a map with a mouse-click using the MTO Title Search yellow-orange button. See Claim Search for more information.

You can look up Reserves with the MTO Site Search yellow-orange button.

So... try it or not, as you please.
---
Notices
Copyright 2011, 2012, 2013, 2014, 2015, 2016, 2017, 2018, 2019, 2020, 2021, 2022 by Brian Marshall &nbsp &nbsp brian@bcplacer.com

All images on this website are copyrighted by their owners and they may not be downloaded for other than personal use - republication, retransmission, reproduction or other use is prohibited.

INFORMATION PROVIDED BY THIS WEBSITE IS PROVIDED "AS IS", WITHOUT WARRANTY OF ANY KIND, EXPRESS OR IMPLIED, INCLUDING BUT NOT LIMITED TO THE WARRANTIES OF ACCURACY, MERCHANTABILITY, FITNESS FOR A PARTICULAR PURPOSE AND NON-INFRINGEMENT. USE AT YOUR OWN RISK.
---